Life Changing Events Essays On Leadership
Napoleon, Empress Wu, Franklin D. Roosevelt, Oliver Cromwell, Akbar, Stalin. History provides many examples of strong leaders who left their marks, for better or for worse.
But what the past will not do is provide the magic formula for how to become an effective leader. Looking for clear lessons in history is a futile quest: there are too many and their meaning is always in dispute. History can be useful, however, in suggesting patterns and parallels, raising questions, and – equally important – giving warnings about why things go wrong.
So here, from one historian, are first some tips about what goes into the making of a successful leader and, second, warnings about what can bring failure.
You have to want to lead
Leading can be gratifying, often exhilarating, but it is also lonely. Ambition and the determination to succeed may mean sacrificing friends and family. Think of how many children of great men have had unhappy lives. That loneliness is why statesmen like summits: they meet those rare others who face the same pressures and responsibilities.
At the Paris Peace Conference of 1919, David Lloyd George of Britain, Georges Clemenceau of France and Woodrow Wilson of the United States talked about their dreams and shared their fear of failure. What they also had in common was an ability to pick themselves up after setbacks and keep on going.
Work out the key people to keep on side
The people to keep on side can vary: in a democracy, leaders need to worry about numbers and getting re-elected; in an authoritarian state, leaders can probably just focus on keeping certain institutions – the military or the secret services, for example – on side.
When Bismarck created Germany he needed one man above all others: the Prussian King Wilhelm. It was not an easy relationship – Wilhelm complained that it was hard to be king under Bismarck – but in the end he supported his brilliant minister, who in turn made him Emperor of Germany. In democracies, political leaders have to build stable coalitions. After the Great Depression in the United States, the Democrats brought together Southern Whites, Northern Blacks, the working classes and liberals, and that served them well for decades.
It helps to be a good communicator
That means above all understanding your audience.
Lloyd George, who was one of the greatest British orators, once said: "I reach out my hand to the people and draw them to me. Like children, they seem then." Winston Churchill's rhetoric in the Second World War can sound overblown today, but it was what the British people needed at the time.
Oh, and it does make a difference to have something to say. In his radio Fireside Chat of the 1930s and 1940s, President Roosevelt was reassuring the American people about the state of the nation and getting them used to the idea that the United States might have to fight the dark forces gathering in Europe and the Far East.
It also helps to listen
In the Cuban Missile Crisis, perhaps the single most terrifying moment of the Cold War, President John F. Kennedy insisted on hearing his advisers' different points of view before deciding how to deal with the Soviet challenge in Cuba. (Interestingly he had also just read Barbara Tuchman's classic book on the outbreak of the First World War, which showed how easily leaders can make mistakes and stumble into a conflict they didn't really want.) As Kennedy also demonstrates, choosing good and independent subordinates is a safeguard against making bad decisions.
If you can intuit the way the currents of history are flowing, you may be able to ride them
Bismarck famously said that a statesman "must wait until he hears the steps of God sounding through events, then leap up and grasp the hem of his garment". And he did that when he manoeuvred across the chess board of Europe to create the new state of Germany.
Effective leaders are able to manage both the day-to-day issues that press in on them and the bigger picture. That is where a knowledge of history helps, as it shows patterns amidst all the noise of current events and reminds of possibilities other than those we are used to.
And now for some warnings.
Beware of the traps that power lays
The French talk about "déformation professionnelle", which means the way your profession or your post can subtly warp your judgement so that you only see things from one perspective.
Before the First World War, the German General Staff were told to develop plans to ensure Germany's victory, if necessary against France and Russia at the same time. They came up with a brilliant and detailed plan to fight a holding action against Russia in the East and, by throwing the bulk of their forces against France in the West, bring its surrender rapidly. Because it made military sense, German troops would invade neutral Belgium on their way to Paris. Politically, though, it was a disastrous decision. Germany's violation of Belgian neutrality brought Britain into the war, virtually ensuring its defeat.
Power is also dangerous, because those who hold it start to think they can do whatever they choose. Think of Richard Nixon trying to use the institutions of the American government to shut down the Watergate scandal. Or the American war in Vietnam. In the 1960s the United States was the most powerful economic and military power in the world. Its leaders assumed they could easily overwhelm North Vietnam and bring its leaders to the bargaining table. They did not bother to wonder whether their enemies (and their Vietnamese allies) might have different ideas. Robert McNamara, who was Secretary of Defence at the time, later said, "Our misjudgements of friend and foe alike reflected our profound ignorance of the history, culture and politics of the people in the area and the personalities and habits of their leaders."
Don't start to believe your own propaganda
In ancient Rome, when a successful leader enjoyed a triumphal march, a slave stood behind him and whispered in his ear: "Remember you are human." Mustafa Kemal Ataturk, the father of modern Turkey, was the rare leader possessing great power who knew his own limitations. It is said that he issued a standing order that any instruction he gave in the evenings – when he liked to carouse with his friends – should be ignored.
History has far more examples of leaders whose conviction of infallibility grow in proportion to their power. With most of Europe lying at his feet, Napoleon came to think he was invincible. He found himself enmeshed in a pointless and costly war in Spain. Then to bring the young Tsar Alexander to heel he invaded Russia, the mistake that led to his eventual downfall.
Adolf Hitler had a string of successes – the seizing of Austria and Czechoslovakia, the defeat of France, the partition of the centre of Europe with the Soviet Union – which convinced him that he was infallible. Against his generals' advice he followed Napoleon into Russia. When German troops encountered resistance, Hitler refused to let them retreat. It was the beginning of the end.
Know when to step down
Relinquishing power is one of the hardest things to do. Yet, as the old joke has it, graveyards are full of people whose tombstones read: "They thought they were indispensable." The 16th century Emperor Charles V who voluntarily abdicated as Holy Roman Emperor and retired to a monastery is highly unusual.
Far more often, leaders have chosen to stay on when they should have bowed out. Without intending to, they often undo much of their own work and cause problems for their successors. An old and increasingly frail Winston Churchill should not have tried to be prime minister again in 1951. His government drifted, while his chosen successor Anthony Eden grew increasingly embittered.
A final word: You can have all the qualities that make a great leader – from determination to vision to sheer ability – but if you don't have luck and good timing, you will never get a chance to show what you can do.
Without the French Revolution, which swept aside the old order and opened up rapid advancement for men of talent, Napoleon would have remained in obscurity. If the Tsarist regime in Russia had not collapsed during the First World War, an impoverished exile called Vladimir Lenin would never have had a chance to carry out the coup d'état in St Petersburg which gave his tiny Bolshevik Party power for the next 70 years. So if I have one piece of advice for would-be leaders, it is read some history.
Share
The views expressed in this article are those of the author alone and not the World Economic Forum.
Subscribe for updates
A weekly update of what's on the Global Agenda
COVER STORY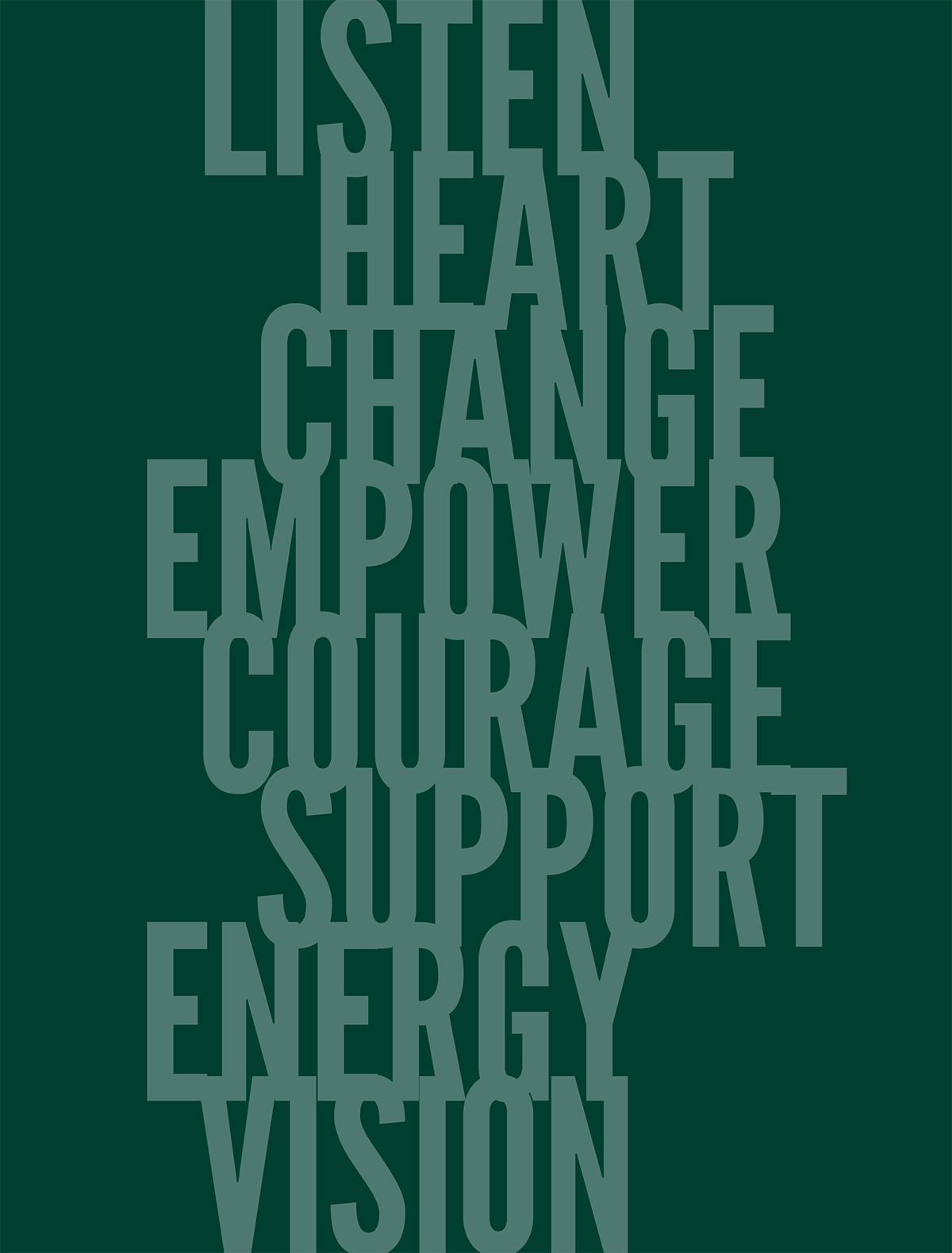 Essays on Leadership
Bauer College Students, Faculty, Staff & Alumni Reflect
Intro By Jessica Navarro
Photography by Nicki Evans
It's right there in the Bauer College mission statement — capitalizing on the business and professional strengths of the Houston community, the mission of the C. T. Bauer College of Business is to conduct research that will shape and address new business realities and to prepare our students for responsible leadership worldwide.
These days, the notion of what makes a good leader is up for debate. Should leaders take action now and ask questions later? Should leaders fade into the background in favor of building their team? How do leaders become leaders? Are certain people born with the attributes for leadership, or can those skills be taught and cultivated?
We enlisted the help of several Bauer students, faculty, staff and alumni to share their perspectives on leadership in the following series of essays, answering the question, "What does leadership mean to you?"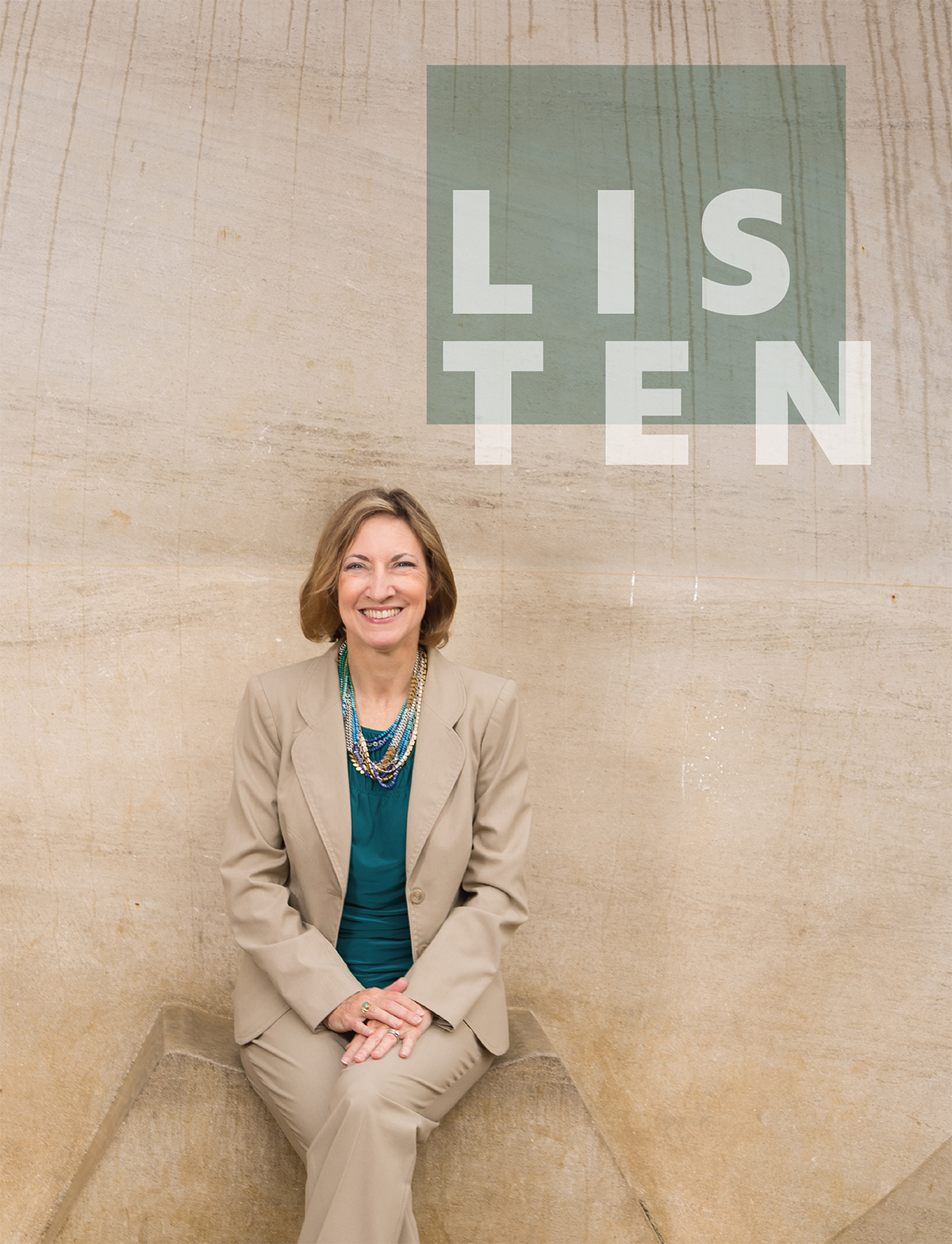 JAMIE BELINNE
ROCKWELL CAREER CENTER ASSISTANT DEAN FOR CAREER SERVICES
BIO: AS ASSISTANT DEAN FOR CAREER SERVICES, BELINNE LEADS BAUER COLLEGE'S ROCKWELL CAREER CENTER. SHE IS ALSO PRESIDENT AND FOUNDER OF THE MBA CAREER SERVICES & EMPLOYER ALLIANCE (MBA CSEA) AND IS A FREQUENT SPEAKER AND TRAINER FOR LOCAL, NATIONAL AND GLOBAL COMPANIES ON TOPICS RELATED TO CONFLICT RESOLUTION, NEGOTIATIONS, INTERPERSONAL EFFECTIVENESS AND CAREER DEVELOPMENT.
LEARN MORE: ROCKWELL CAREER CENTER →
Leadership has little to do with title and authority, and much to do with influence and inclusiveness. Over the years, I have been fortunate to meet many leaders I admire whose work and style have inspired me to be a better person and a better leader. They all have the same basic characteristics in common.
THE BEST LEADERS ARE THE BEST LISTENERS."
Listening: First and foremost, the best leaders are the best listeners. (This is supported by much research.) I don't just mean sitting quietly. I mean truly trying to understand the ideas and perspectives of others, which is harder than it sounds! Seek out feedback and opinions different from your own. The better you understand the thoughts and ideas of another, the easier it is to find both innovation and common ground to move forward. People can't truly listen to your ideas until they believe you have heard and understood theirs, anyway.
Including: Embrace different styles and perspectives to find the best in each individual around you, rather than surrounding yourself with people just like you. If you value each person as a unique individual, they are more likely to share their best gifts and efforts when working for you. Also, create a safe space where people feel supported, even when they disagree.
Appreciating: Make time to thank everyone who has helped you along the way. It's amazing how much more people are willing to do when they know their hard work is being noticed and appreciated. When you are willing to show gratitude and share success celebrations, it becomes easier to request and receive help from others, which is critical to anyone's success. Nobody makes it to the top alone!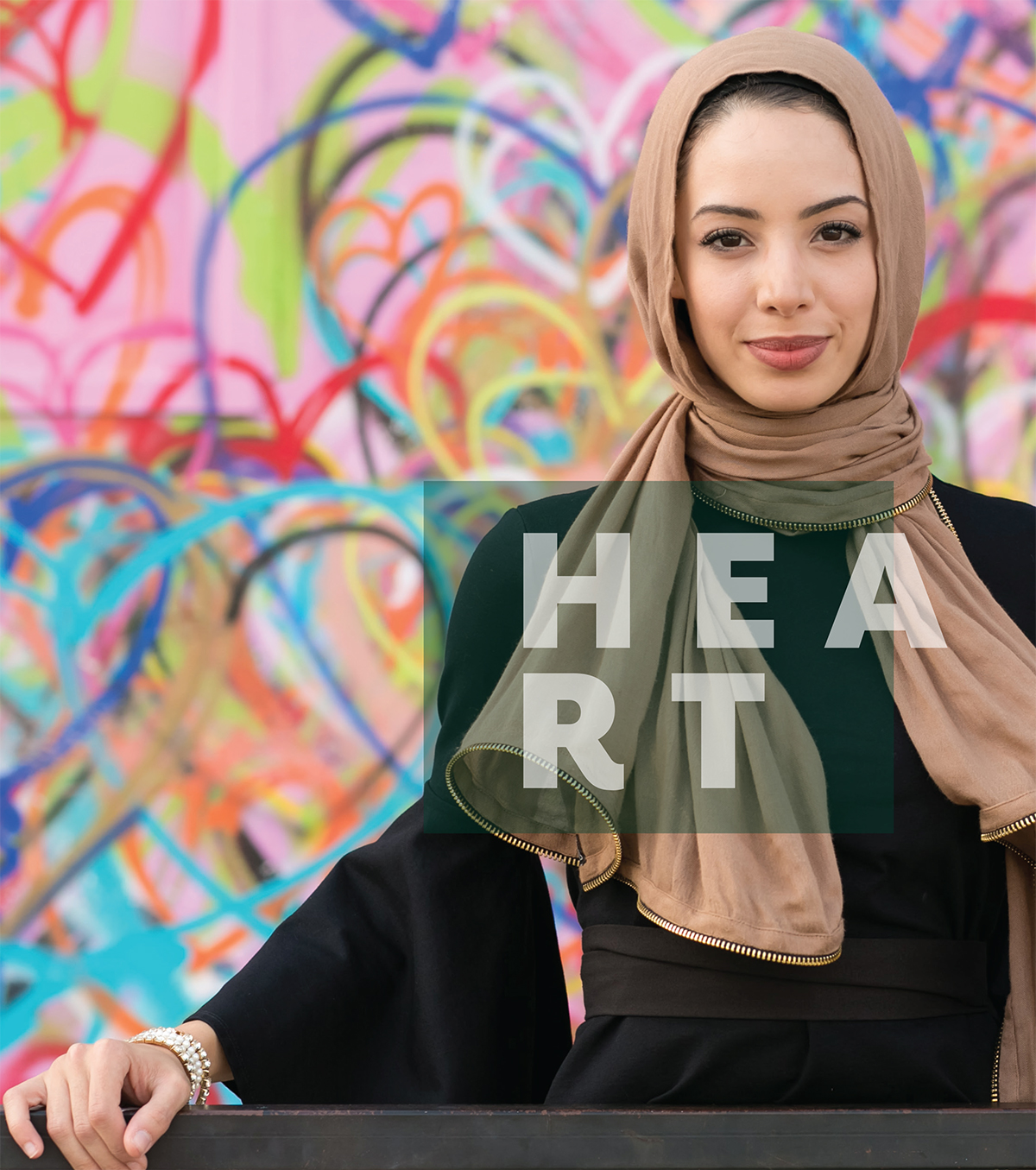 NOHA SAHNOUNE (BBA '15, MSACCY '16)
CORPORATE FINANCIAL ANALYST AT EXXONMOBIL
BIO: SAHNOUNE IS A FINANCIAL ANALYST AT THE EXXONMOBIL CORPORATION. SHE IS A TWO-TIME BAUER COLLEGE ALUMNA, AND THROUGHOUT HER UNIVERSITY CAREER, SAHNOUNE SERVED AS A STUDENT AMBASSADOR AND A MEMBER OF THE UH HONORS COLLEGE AND COMPLETED THE TED BAUER LEADERSHIP CERTIFICATE PROGRAM. SHE INTERNED AT EXXONMOBIL, DELOITTE AND NASA, AND ON CAMPUS, SHE LED AN ORGANIZATION FOCUSED ON THE PROFESSIONAL DEVELOPMENT OF WOMEN IN THE CORPORATE WORLD AND CONDUCTED RESEARCH IN BAUER'S DEPARTMENT OF MANAGEMENT.
To be a leader is to do what is uncomfortable for the benefit of the people, places and things around you — and in my time at Bauer College, that involved constantly weighing the risks of putting myself out there and failing miserably, looking like a complete fool – versus speaking my mind and heart to add value to something greater than myself (while remaining to appear a complete fool, I'm certain).
Needless to say, the latter always won out.
LEADERSHIP IS TAKING EVERYTHING THAT YOU DO ONE STEP FURTHER, TO SEE HOW FAR YOU CAN GO AND HOW FAR YOU CAN TAKE OTHERS ALONG WITH YOU."
For me, five years at Bauer College had the potential to be five years of classes, of immense fear of rejection, of swallowing hard before I spoke, of choking on my own words, and of doubting everything I knew because I didn't think I was strong in my own skin. And that is exactly how my journey began.
But five years at Bauer College quickly became about throwing myself into any opportunity to grow where I felt weak. I constantly sought support and advice from my professors and peers, and I embraced the discomfort of growth to prove to myself that I was capable — and that on any standing in any arena, I would be good enough to compete.
And the way that it turned out, is that five years at Bauer College became five years of remarkable classes, of one presidency of the Bauer Women Society, one year in the Ted Bauer Leadership Certificate Program, one year at NASA, one semester at Deloitte and ExxonMobil, one bachelor's degree, one master's degree, and one girl who wore the cap and walked the stage and proved to herself that she could.
There were some tough lessons learned along the way. Leadership is not about telling others what to do, and certainly not about taking it all into your own hands. It is about doing the right thing at all times, to stay true to what you believe in, to empower the people who believe and look up to you, and to remember that your life is a testament to something greater than, well, you. In the real world, and as a student, it is easy to become complacent — to work the hours, to study for an exam, to keep your head down, and do what is expected and no more. When I think back on my times at Bauer College, I often wonder what I could have done better to leave an impact. In retrospect, what I have learned is to do more. To be more. Leadership is taking everything that you do one step further, to see how far you can go, and how far you can take others along with you.
Through my experiences and observations of the world at large, my perspective on what it means to be a leader continues to evolve, but what I know to be true will always stay the same.
Do the right thing.
Do everything to the best of your ability. And do what you can to leave something better for the world behind.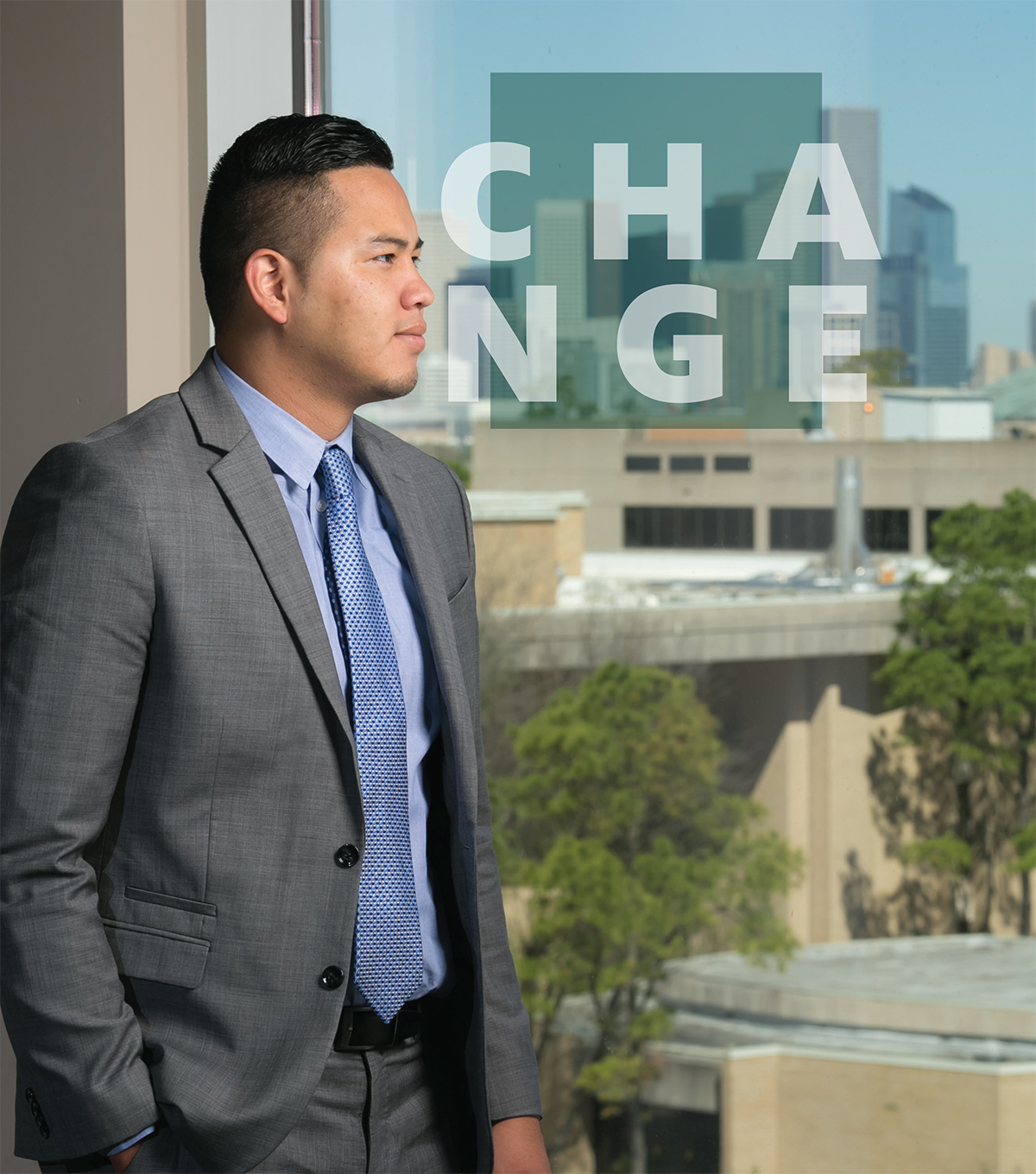 HILARIO "ELI" YANEZ
MANAGEMENT INFORMATION SYSTEMS AND SUPPLY CHAIN MANAGEMENT SENIOR
BIO: YANEZ GRADUATES THIS SPRING AND WILL TAKE A FULL-TIME JOB AS A CONSULTING ANALYST WITH ACCENTURE. HE IS A FIRST-GENERATION COLLEGE STUDENT AND SERVED AS PRESIDENT OF THE BAUER COLLEGE MANAGEMENT INFORMATION SYSTEMS STUDENT ORGANIZATION (MISSO). IN HIS FINAL SEMESTER, YANEZ WAS AWARDED THE UNIVERSITY OF HOUSTON'S DEAN'S AWARD ALONG WITH THE TED BAUER LEADERSHIP AWARD FOR HIS FOR COMMITMENT THROUGH SERVICE, LEADERSHIP, AND SPIRIT AT THE UNIVERSITY OF HOUSTON.
Many times, we stereotype what leaders are, and we often think we are not capable of being a leader ourselves. I believe that everyone in this world has the ability to lead, no matter where they come from, how they look or how old they are. You don't have to wait to be a leader of an organization, be the smartest in your group or be the most confident to lead. You can start now! All you have to do is look around and find a way to make a difference.
EVENTUALLY, THE MORE YOU MAKE A DIFFERENCE AROUND YOU, THE MORE PEOPLE ARE GOING TO FEEL THE PRESENCE OF LEADERSHIP IN YOU, WITHOUT YOU HAVING TO SPEAK A WORD."
Every day before I leave the house, I ask myself: "How am I going to make a difference?" This question has always helped me lead with purpose, without falling into the stereotype of what people consider a leader. I have learned that every day, I find myself with opportunities to make a difference to my family, friends and colleagues. A small, yet powerful, example of this is that I look for opportunities to acknowledge people and ask how they are doing. This has opened many doors for me to get to know someone, but most importantly, I let them know that I am here to help them with any difficulties they are facing.
At the end of the day, it doesn't matter how small a difference it may seem to you, but to someone else, it could mean the world. Eventually, the more you make a difference around you, the more people are going to feel the presence of leadership in you, without you having to speak a word. I encourage and challenge you to start leading today by asking yourself: "How am I going to make a difference?"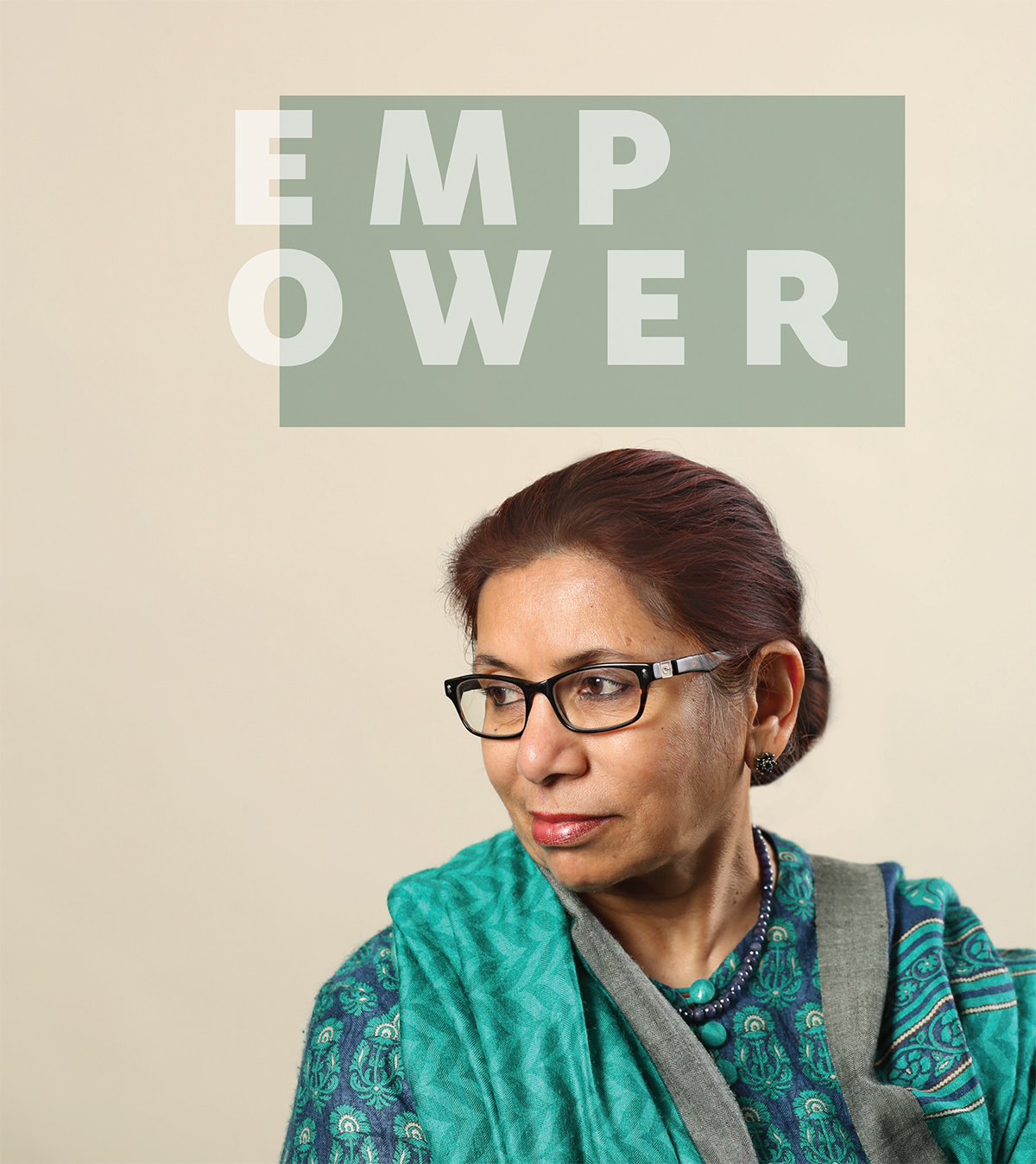 SALEHA B. KHUMAWALA
PH.D., CPA, GGMA; ROBERT GRINAKER PROFESSOR OF ACCOUNTING;
FOUNDING DIRECTOR, SURE™ PROGRAM
BIO: KHUMAWALA TEACHES AND CONDUCTS RESEARCH IN THE FIELD OF GOVERNMENT AND NONPROFIT ACCOUNTING, WITH A FOCUS IN MICROFINANCE. SHE HAS BEEN PUBLISHED IN PRESTIGIOUS JOURNALS, INCLUDING THE ACCOUNTING REVIEW, JOURNAL OF ACCOUNTING AND PUBLIC POLICY AND OTHERS. SHE LEADS THE SURE™ (STIMULATING URBAN RENEWAL THROUGH ENTREPRENEURSHIP) PROGRAM AT BAUER COLLEGE, ENLISTING BAUER MBA STUDENTS TO SERVE AS CONSULTANTS TO ASPIRING ENTREPRENEURS WHO ALSO RECEIVE TRAINING AND ACCESS TO CAPITAL.
LEARN MORE: SURE™ Program →
As a visionary and founding director of the SURE™ Program, leadership to me has always been about empowering the people I work with.
These are the Bauer students in my courses, entrepreneurs from underserved communities in Houston that are part of the SURE™ Program, and my staff and teaching assistants who work alongside me to make this program a huge success.
TO ME, LEADERS ARE 'HOSTS,' NOT 'HEROES.'"
I am very passionate and enthusiastic about my work, which is the genesis of my greatest strengths. I thus feel committed and responsible and a sense of moral obligation for excelling at everything I do — dotting every 'i' and crossing every 't' to the point of being a workaholic. In the process, I am always partnering with other thought leaders to learn, discover new approaches and consider new concepts. I solicit feedback for improvement, and implementing these changes builds greater rapport and simultaneously, their confidence and self-esteem, giving them a sense of accomplishment.
I firmly believe that recognizing the potential of every individual and offering genuine support and sincere encouragement, even at small improvements, goes a long way in their development. Their growth and success is my greatest accomplishment. To me, leaders are "hosts," not "heroes."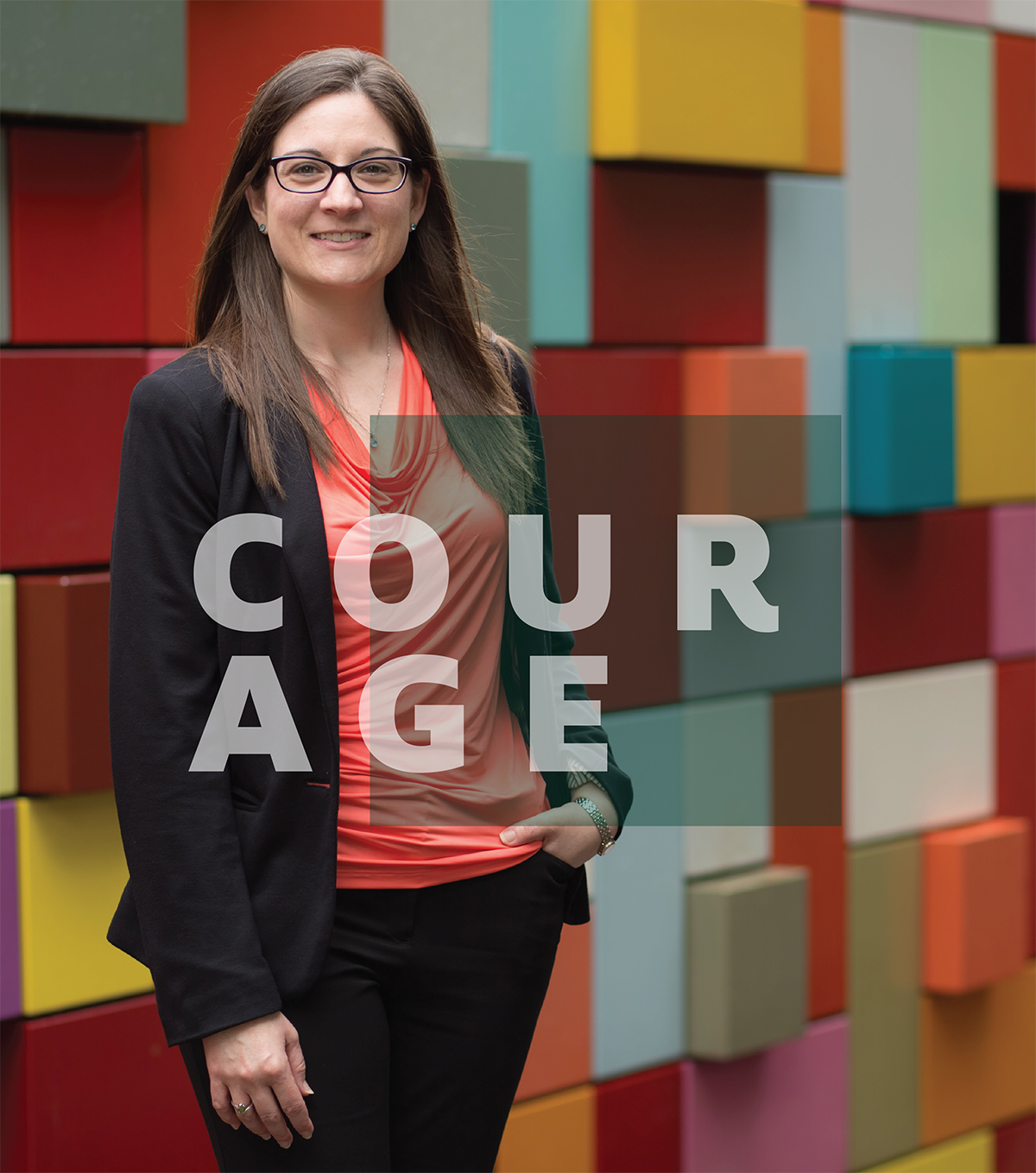 BRITNEY HUDSON
PROGRAM DIRECTOR
BIO: IN HER ROLE, HUDSON IS RESPONSIBLE FOR PROGRAM LOGISTICS FOR BAUER COLLEGE EVENTS AS WELL AS DAILY OPERATIONS FOR THE DEANS. SHE HAS WORKED AT BAUER SINCE 2010 IN DIFFERENT ROLES, INCLUDING PROGRAM MANAGER WITHIN THE COLLEGE'S OFFICE OF GRADUATE AND PROFESSIONAL PROGRAMS.
Stephen Covey is famously quoted as saying, "What you do has far greater impact than what you say." This has had more influence on my view of leadership than any list of top qualities or formulas to follow to be a successful leader.
A LEADER IS NOT BOUND TO A TITLE OR POSITION. ANY ONE PERSON CAN BE A LEADER AT A GIVEN TIME WHEN LEADERSHIP IS NEEDED."
Experience has shown me that leadership is about integrity, being authentic in your failures and successes, being committed to a purpose greater than yourself, and being accountable for your actions.
Leadership is also about having the courage to do what is needed and understanding it focuses on the development of others. A leader is not bound to a title or position. Any one person can be a leader at a given time when leadership is needed. It's being able to help build confidence in someone that when the going gets tough, you'll be in the trenches with them, encourage them to take on the task at hand, and be there to help them through.
At the end of the day, leadership is more about others than it ever is about you. If someone can work with you and leave a better person, having had the opportunity to grow and learn, that to me is leadership. It's not in the accolades for a job well done—it's the person in the background, celebrating the achievements of others and knowing that you had a part in helping them develop to reach their potential.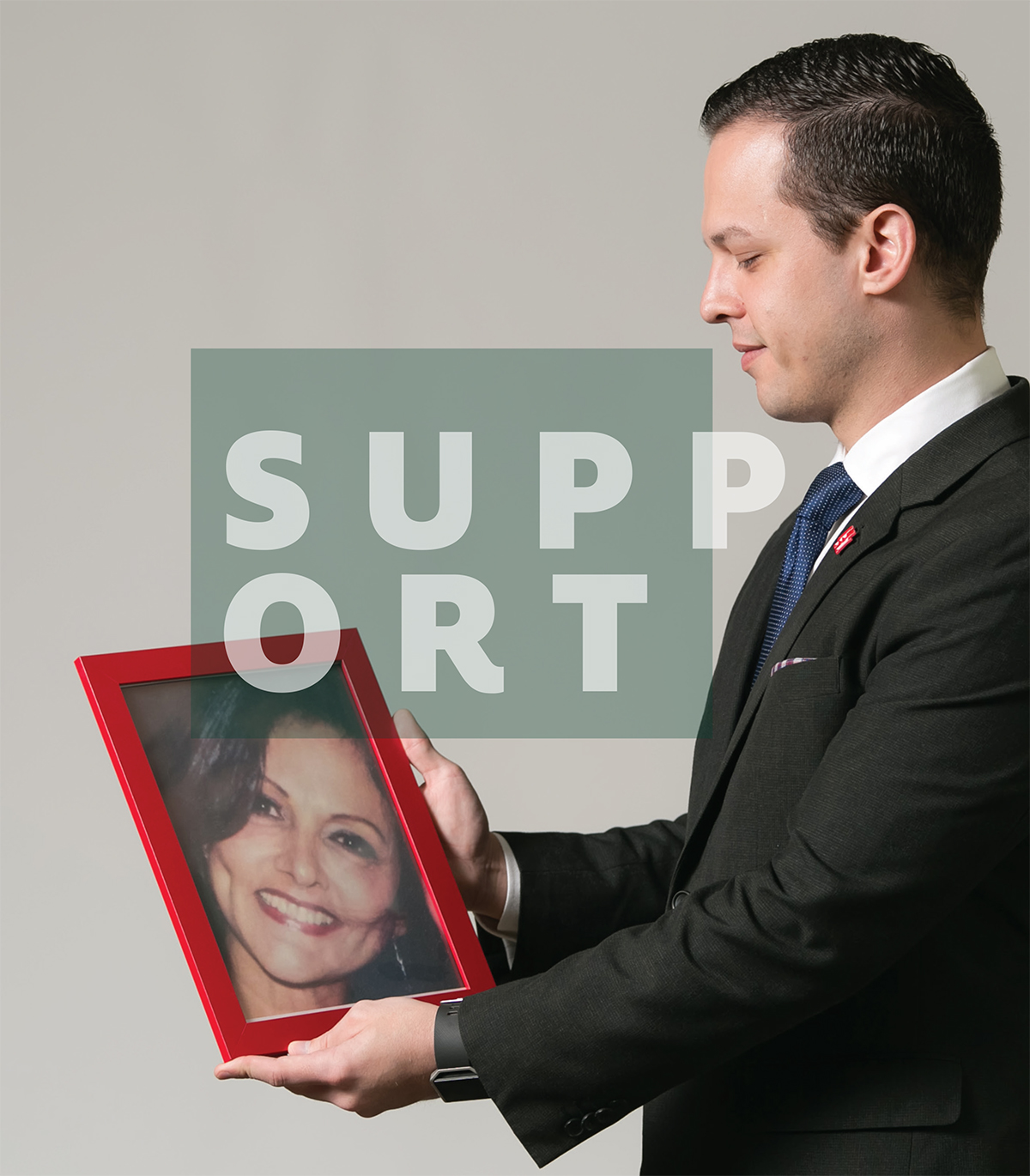 ALEJANDRO SANOJA
MBA CANDIDATE
BIO: BORN AND RAISED IN VENEZUELA, SANOJA IS PURSUING AN MBA FROM BAUER COLLEGE, POISED TO GRADUATE THIS YEAR. HE EARNED AN UNDERGRADUATE DEGREE IN ECONOMICS FROM UNIVERSIDAD METROPOLITANA AND HAS FOCUSED HIS PROFESSIONAL CAREER ON FINANCE, WITH EXPERIENCE IN FINANCIAL CONSULTING, INVESTMENT BANKING AND COMMERCIAL PLANNING. DURING HIS TIME IN THE BAUER MBA PROGRAM, SANOJA HAS SERVED AS A STOCK ANALYST FOR THE COLLEGE'S COUGAR INVESTMENT FUND.
If good artists copy and great artists steal, then good leaders take the initiative and great leaders follow.
We all have what it takes to be great leaders because we have been following the greatest leader of all for most of our lives. This leader was there with us to guide our first steps, supported us and gave us the courage to create our own path. This leader had the patience to repeat the lessons until we learned. This leader has our interest above everything else, even themselves.
THE GREATEST LEADER OF ALL … IS A MOTHER."
That leader, the greatest leader of all, would even give their life for us. To me, that leader is a real superhero. You all know this leader very well, and you call her mother.
Those first steps of our own path of leadership have led all Bauer students to another great leader. This new leader doesn't have a human form but has the biggest heart of all, a heart with the reddest blood you have ever seen. It is a blood that flows thanks to the efforts of every individual in its system. Staff, students and faculty play a key role in the leadership creation process.
For at least two years, we have all been infused with this reddest blood — the lifeblood of being a Bauer student. Now, it is on us to make the most of what we've learned by following these great examples of leaders.
I am grateful for everything my mother did for me, which led me to Bauer. I haven't graduated yet, and I can already tell being here has changed my life. I look forward to doing whatever it takes—leading or following—to change lives as much as my mother and Bauer College have changed mine.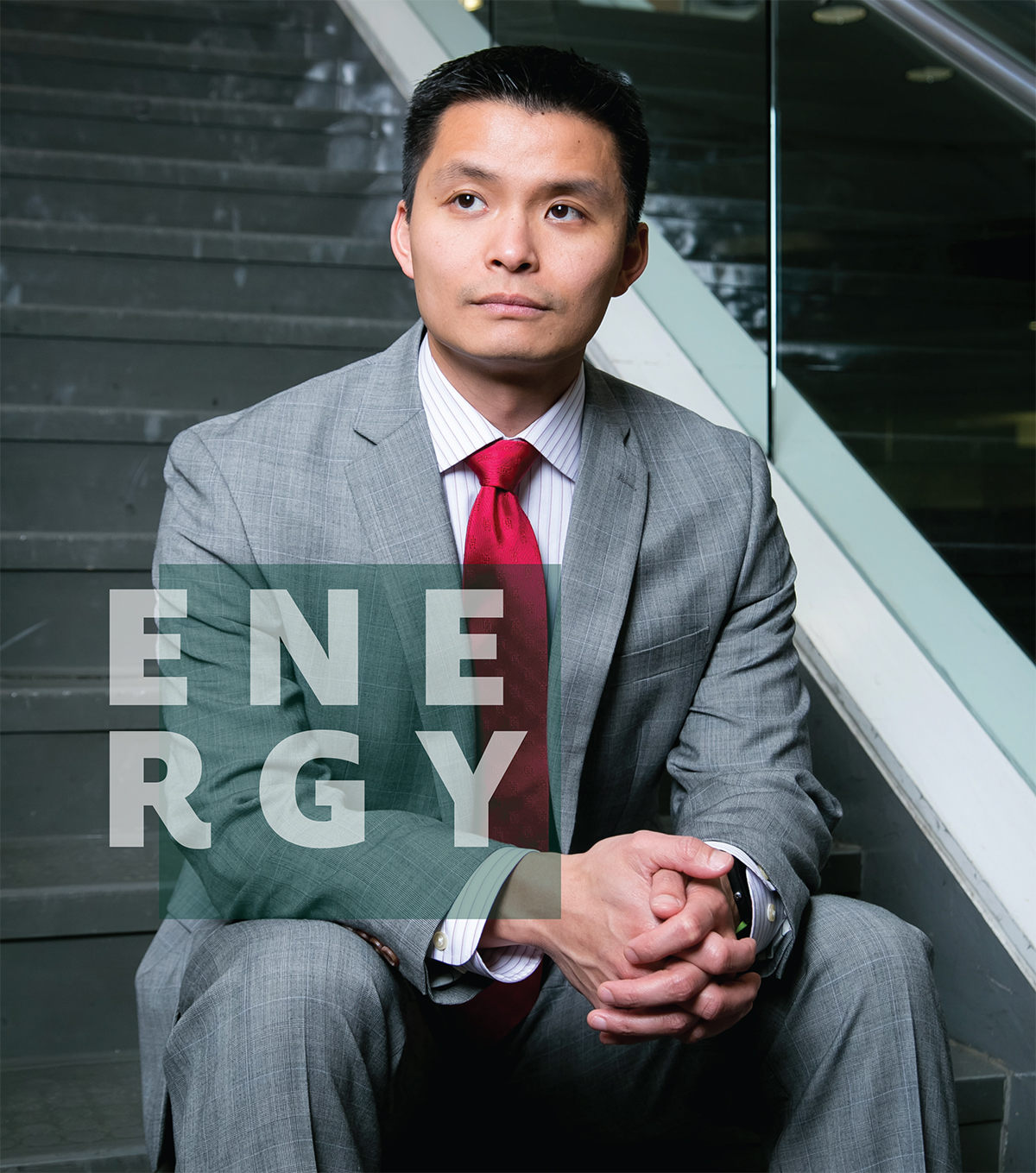 TA-LUNG LIN
DEVELOPMENT OFFICER
BIO: A NATIVE OF HOUSTON, LIN IS A GRADUATE OF THE PROGRAM FOR EXCELLENCE IN SELLING AT BAUER COLLEGE, WHERE HE EARNED A BBA IN MARKETING. HE HAS MORE THAN 12 YEARS OF SALES EXPERIENCE IN DIFFERENT INDUSTRIES, INCLUDING INDUSTRIAL PRODUCTION AND SPORTS SPONSORSHIPS.
When you think of great leaders, whether in business, sports or politics, who comes to mind? Winston Churchill, Jack Welch, Peyton Manning? Regardless of your individual opinions on each person, we can all agree that they led their respective country, organization and teams through great adversity, coming out on top. In addition, what do all three have in common? They led by example and had the unique ability to energize others. If a leader wants their team to function at their best, they too have to be at their best.
LEADERS LEAD BY EXAMPLE AND HAVE THE UNIQUE ABILITY TO ENERGIZE OTHERS."
Leadership to me means the ability for a leader to sympathize with their team on the difficulty of the task they are asked to do and find ways to inspire them to reach the stated goal. A great leader informs their team of what is expected and what needs to happen, then digs down in the trenches with them to help reach it. No one likes an individual that barks out orders then sits back while the rest of the team does the work before taking credit for all the accomplishments. Actions like that don't motivate — they create discontent.
Think about the people in your lives or those you've studied that you want to emulate. Those are leaders. They inspire you to do more.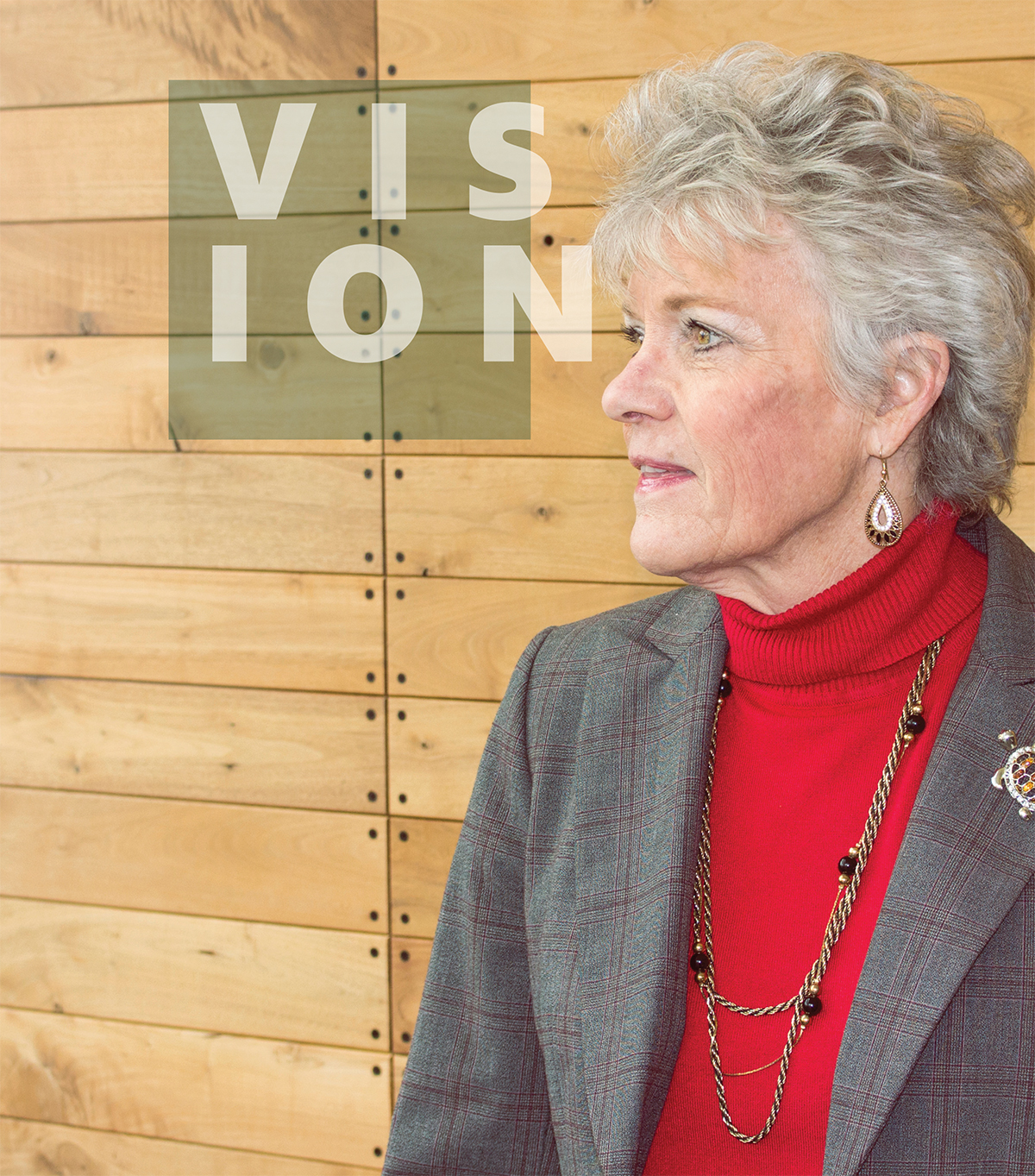 LEANNE ATWATER
PH.D., MANAGEMENT PROFESSOR
BIO: ATWATER RECENTLY ENDED A SIX-YEAR TERM AS EDITOR-IN-CHIEF FOR THE WORLD'S LEADING ACADEMIC LEADERSHIP JOURNAL, LEADERSHIP QUARTERLY. SHE TEACHES CLASSES IN LEADERSHIP AND ORGANIZATIONAL BEHAVIOR AT THE UNDERGRADUATE, MBA AND EXECUTIVE MBA LEVELS AND IS ALSO IS AN ACTIVE RESEARCHER, WITH SEVERAL PUBLICATIONS ON LEADERSHIP, INCLUDING A 2015 BOOK, APPLIED LEADERSHIP DEVELOPMENT: NINE ELEMENTS OF LEADERSHIP MASTERY.
As a professor of leadership development, my role is to bring out the leader in every student. I emphasize to them that leadership is everywhere, and everyone is a leader.
LEADERSHIP IS EVERYWHERE, AND EVERYONE IS A LEADER."
Being a leader does not require a formal title or position. We see leadership everywhere — at work, at home, in our social groups, in formal and informal settings, and even among our children. Leadership is not who you are, but what you do. It is about skills that are learned and demonstrated.
While some individuals may have a greater propensity to lead, each and every one of us can become leaders. Four essential and interrelated components of outstanding leadership are honesty, integrity, authenticity and intolerance. Honest has been found to be the cornerstone of great leadership across the globe. Integrity requires honesty, but goes beyond in that it requires consistency between values and behavior. Authenticity requires honesty and integrity but also includes self-awareness and the willingness to let others see the "real" you. A leader cannot be authentic while trying to imitate someone else.
Lastly, leadership requires intolerance, which means leaders establish boundaries and enforce them. Boundaries set limits for followers to clearly know what is right and wrong. If we fail to be honest and authentic and to behave with integrity and intolerance, we cannot be a role model for others to follow.